Download free "
The American union, a discourse delivered on Thursday, December 12, 1850, the day of the annual thanksgiving in Pennsylvania, and repeated on Thursday, December 19, in the Tenth Presbyterian Church, Philadelphia,

" by

Henry A. Boardman

EPUB, MOBI, PDF, TXT, Kindle
---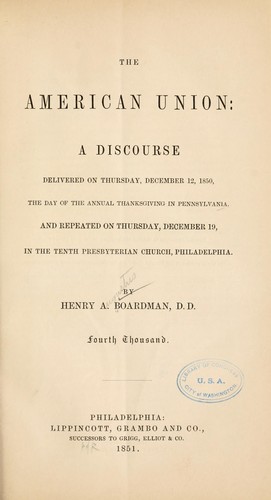 Free Find Ebook
The book was published in

1860
Book description:
Edition description:
7th ed.
of "The American union".
Publisher:
J.B. Lippincott & Co.
.
Date:
1860.
Place:
Philadelphia
Number of pages:
58
---
This book describes the following items:
Secession, United States > Politics And Government > 1849-1853,