Download free "
Voyages chez différentes nations sauvages de l'Amérique Septentrionale, renfermant des détails curieux sur les mœurs, usages, cérémonies religieuses, le systême militaire, &c. des Cahnuagas, des Indiens des Cinq & Six Nations, Mohawks, Connecedagas, Iroquois, &c. des Indiens Chippeways, & autres sauvages de divers tribus ... avec un état exact des postes situés sur le fleuve S. Laurent, le lac Ontario, &c., &c.,

" by

Long, J. Indian Trader.

EPUB, MOBI, PDF, TXT, Kindle
---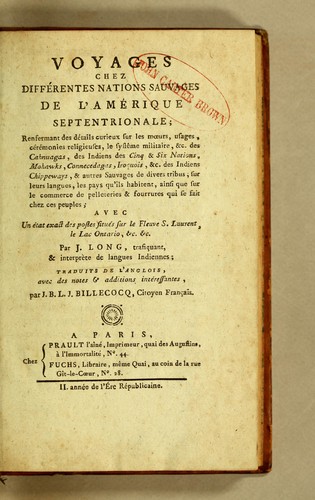 Free Find Ebook
The book was published in

1794
Genre:
Early Works To 1800
Language:
French
Book description:
Genre:
Early Works To 1800
Publisher:
Canada
.
Date:
1794.
Place:
Paris
Number of pages:
320
Language:
French
---
This book describes the following items:
Canada